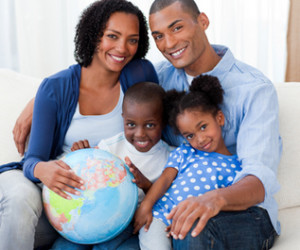 We provide both residential and commercial pest control services either monthly, quarterly, or annually, depending upon the requirements of the situation and/or our customer's preference. The service quality and results (and guarantee) are the same regardless of which service frequency you choose. We offer all three options because we believe in being flexible in order to accommodate the wants and needs of any customer with any situation. Our goal is to provide the best customer service.
Annual Service: Once-A-Year Plus Pest Control service program is the most technologically-advanced pest control plan. It is designed to rid your home of crawling pests such as roaches, ants, fleas, spiders, silverfish, earwigs, scorpions, rats, mice and many more, for an entire year. It involves a thorough, environmentally-friendly annual treatment of both the inside and outside of your home, PLUS an exterior perimeter "booster" treatment every three months ("quarterly") to maintain your pest control. We guarantee that your home will be free of these pests for an entire year, or we'll return and retreat at no additional cost to you. This service is guaranteed for one full year and is the most economical long-term plan available for home pest control.
Quarterly Service: The best pest control service for many homeowners is the quarterly (once-every-three months) treatment for your home. Although we still have monthly service available, in most cases, a quarterly service program is sufficient. Today, many of the products that we use at Spears Environmental Pest Control are designed to provide a much longer-lasting residual effect. These highly-advanced materials are very effective at quickly eliminating pests
and maintaining these results for a long time. They are "environmentally friendly" in terms of not only the public environment, but also your immediate home/office environment as they are safe, mostly odorless and won't bother your allergies. We perform a comprehensive interior inspection and treatment at least one quarter in the year — or as needed — and maintain your pest control with a comprehensive exterior perimeter treatment every three months. Your technician will come inside and do whatever may be needed every quarter if you like. Our service also includes sweeping your eaves, porches, etc. for: spider webs, treated wasp nests, mud dauber nests, etc. (As needed). We are flexible and will strive to customize our service as needed to accommodate your particular needs as our valued client.
Monthly Service: Depending upon the given situation, in some cases, a monthly service may be needed. The service consists of treating the interior of your home using various methods and materials. We also apply a barrier around the perimeter of your home to help prevent pest entry.
Our Commercial Accounts include offices, restaurants, hotels, medical clinics, hair salons, etc. As with our home pest control customers, business owners and their employees love the fact that we use the principles of Integrated Pest Management (IPM) to both safely and effectively get rid of pests such as cockroaches, ants, spiders, bed bugs, mice/rats, etc. We do this in part through inspection and strategically employing targeted treatments such as crack/crevice gel baiting, trapping, physical removal, sanitation, and organic products in the more sensitive areas (especially indoors) when needed. This approach provides the maximum health/safety for everyone (customers and employees) as well as protecting the success and reputation of your business.